Tag Archives:
APM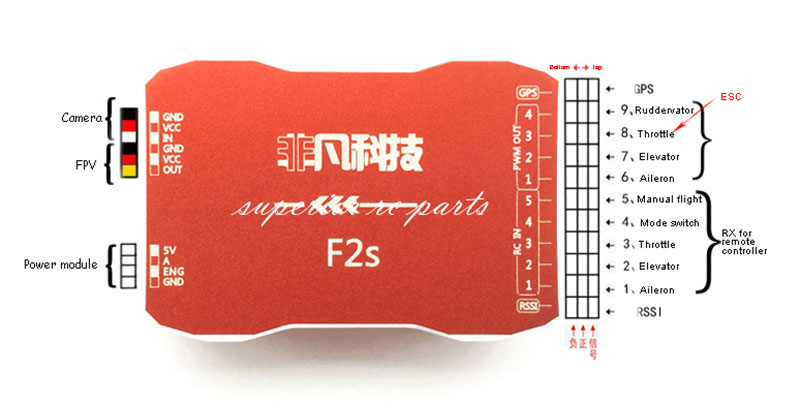 Amazing F2S all-in-1 flight controller, I think this is worth sharing.  The F2S coverts your fixed wing planes into a drone with GPS return home.  In addition, it adds all the telemetry information on your screen.  Best of all, no tuning needed.
We configure the F2S on an Eachine Mini Skyhunter Racer for this episode with a Mobius Mini. It does a nice turn on Return Home and circles in a 8 formation upon returning and begins to climb that 328 ft (100 m) preset. I have been flying this plane without Gyro, so at Manual mode, I still retain the full experience and know I can bail out at any time. The Mini Skyhunter is a fast plane, I noticed the Heading Mode seem to zigzag-drift occasionally, other than that, the rest is good so far. I get the most 11 GPS satellites so far. Here is a video of everything you need to get setup.

Configurations:  You can get to the setups menus, by holding down the Aileron stick to the right for 3 seconds and the menus will pop up.  Please note that if you have any weight (trims) adjusted to the ailerons inputs, you may not be able to reach the menus.  If you flying a 3 or 4 channel airplane, make sure you set the type to plane icon on the F2S, if needed connect your Rudder directly to your receiver.  You can connect Ailerons by using a Y connector on to the PWM Out #6.
If you are flying a Delta Wing, connect one Aileron to PWM Out1 and the other Aileron to PWM Out #7, set the type to Delta Wing icon.  The F2S will configure them as Elevons.
Pros – can be installed and tested under an hour, multiple flight modes and comprehensive OSD
Limitations or maybe good – little customization or tuning available or needed. Setup by radio, no computer required…