Motive-RC R8SB Telemetry Receiver on Taranis X-Lite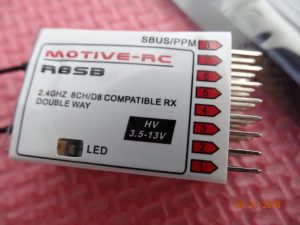 I still fly lots of planes the old school way, without any flight controllers, so this Motive RC R8SB all-in-one receiver even though a D8, it allows me to use my Taranis radio transmitter and most of the features.  Add a voltage sensor and I am all set.  The receiver comes with various model type SBUS, physical channel PWM outputs, PPM and RSSI.  The RSSI warns me about the signal strength before I fly too far out.   Here is a video on how I add a RSSI bar to my X-Lite screen using the Motive-RC R8SB.


The R8SB is like the FrSky V8R7-II receiver but with telemetry functions.  It bound instantly and lights up like a green lantern. There are more pins than a usual receiver, but they are nicely color coded to help me determine signal, power and ground.  The upper set of pins are your 8 channels or SBUS/PPM.  The lower set of pins are RSSI, two analog telemetry ports (A1&A2), A1 for internal receiver battery voltage sensor, A2 for external battery voltage sensor (0~30V, 1~6S) and one digital data-stream port (Rx, Tx)…
Brand name: MOTIVE-RC
Item name: R8SB 9CH D8 Compatible Telemetry Receiver
Number of Channels: Up to 9CH from SBUS(CH1~8 for PWM, CH9 RSSI for FC)
Input Voltage Range: 3.5V – 13.0V (5V Normal Operating Range)
Range: above 1.2KM
Compatibility: iRange X , Jumper Transmitters, FrSky XJT / DJT / DFT/ DHT, D8_Mode on all FrSky transmitters
Size: 35 x 21 x 12 mm (L x W x H)
Weight: 6.8g
Works perfect as described, and if the price is right, this may be for you. Recommended. I will update this review if needed to share more experiences and therefore a frame of reference.