XK A110 Predator MQ-9 EPP Glider 565mm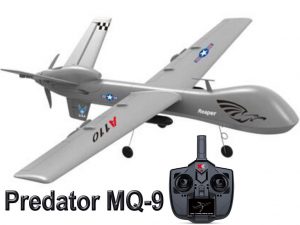 XK is one of my all time favorite manufacturer that makes ready to fly (RTF) self-stabilized drones.  This XK A110 is modeled after the Predator MQ-9 drone using 3 channels.  XK A110 Predator MQ-9 is very light and uses differential trust, just like a quadcopter, to power the turns instead of using a rudder. Two small propellers, one on each wing. A little disappointing, the back larger propeller is just a dummy prop that only adds some drag.

The pusher propellers are dual-engine powered and rotates in opposite directions to cancel each other out of the counter-torque; that keeps it more stable and in path. Comes built-in a 6-axis gyroscope flight auto-stabilization system with dual rates, allowing me to perform some aerobatics such as loops…
Specification:
Material: EPP+ engineering plastics
Wingspan: 565mm
Captain: 455mm
Flying weight: 67g
Flight time: about 7-8 minutes
Charging time: about 30 minutes
Remote mode: 2.4G 3 channels
Remote control distance (m): more than 200 meters
Motor: hollow cup motor 0720 *2
Battery: Li-Po 3.7V (250MAH) 20C
Charger: Dedicated USB 1S charger
2018 Price: about $39
Installation is easy but it requires some gluing.  Included is a collection of stickers.  I put them on, the same way like a temporary tattoo, using some water.
The 6-axis gyro makes it very easy to fly for those who have at least flown a fixed wing before.  Dual rates are engaged on the right shoulder button, with high rates giving you some agreesive turns but not aerobatics.
One major set back on the XK A110 is the failsafe.  It is setup incorrectly and may subject the plan to fly away.  The XK A110 throttles up when radio signal is lost.  However being such a small plane, I have no issues yet flying within line of sight.
To summarized, XK delivers on a budget ready to fly radio control plane, but as usual, it is geared towards beginners and park flyers. If you are expecting  a scale drone, this is not XK's intention, but if enjoy a park flyer (like the Parkzone series), this would be for you.  I am a little concern about the failsafe setting, considering that the stock radio has a short range.  However, it is still a fun park flyer.