Monthly Archives:
May 2017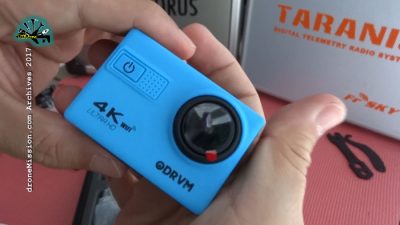 The latest actions sports camera ODRVM 4k talks. We took it out to compare with the Git2 camera. Here are some sampling of footage filmed at Disney. These ultra vivid cameras are becoming very affordable these days.

The ODRVM comes with in a very nice case with accessories, a user guide in 4 languages. It comes with a remote controller, a great way to start/stop a recording from the distance or when the camera is placed in a location not easily reachable.
User Segment

Camera Enthusiast, Budget $69 (May 2017 source: Amazon)
Our Notes
Lets take a look at the camera. On the front we have the power and mode button. The shutter/recording button is on the top with a LED indicator. By placing the LED indicator on the top, helps to prevent a blinking reflection while filming closeups and through a window. The back contains the 2″ LCD screen for framing shots. Battery compartment is at the bottom. Right side has the button that allows you to scroll up and down button, a speaker and the WiFi on and off button. On the left side has a micro USB, micro HDMI output, microphone, and a micro SD slot.
It is slightly bigger than a GoPro 3, but is actually lighter, weighing just 63 grams.
The details are sharp, colors are vibrant. The ODVRM has an excellent wide dynamic range, even when a subject is backlit by the sun, you can usually see their face. The saturation is good without looking over-done.
The white balance on the camera adds colors to balance the light source, for example on a overcast day, the image can look bluish if left unadjusted. This auto white balance control in your camera sees the cool color temperature and adds some red to warm the colors, as a result you may see a tint of red.
The menu system is straight forward, simple to use and intuitive. The settings selected are displayed on the screen which is absolutely useful to view before you begin filming.
Voice prompt can be useful in some situations, it prompts you when your battery is low and each time you start and stop recording. You may find yourself turning it off after a while, unless you plan to edit out every voice prompt on the recorded videos.
The field of view options are 170, 140, 110 and 70. Anti-shaking and gyroscope is available as a option.
A feature we like is the auto time-lapse, a mood feature to capture moments in time.
The maximum photo size is 20m and UHD 4K video at 24 fps or more popular at 1080p 60 fps or 720p at 120 fps.
Filming at 4k is sharp, but not as smooth, and that seem to the same problem with the Git2.
Similar Models
Users have considered these 2017 alternatives: Git2, Firefly 6s
Factory Specifications
Video Resolution: 4K 24fps; 2K 30fps; 1080P 60fps; 720p 120 fps; 720p 60 fps
Image Resolution: 20M, 16M, 12M, 10M, 8M, 5M, 2M , VGA selectable
Lens: 170°/140°/110°/70° selectable
Shooting Mode: Single Shot / Self-timer (2S / 5s / 10s / Double)
Time-lapse Record: 100ms / 200ms / 500ms / 1Sec / 5 Sec
Loop recording: Support
Voice prompt: Support
Motion Detection: Support
Frequency: 50Hz/60Hz
USB Interface: micro USB 2.0, micro HDMI
Power Source Interface: 5V/1A
Battery Capacity: 3.7V Li-ion Battery 1050 mAh (Two Batteries Included )
Recording Time per battery: 40 minutes/ UHD 24 fps, 60 minutes/1080P 30fps , 70 minutes/720p 120fps
Operating System (OS): Windows XP/Vista or Above/Win7/Mac os
In terms of ranking, I would say it is in the top 4 favorites during this release recorded May 2017. An update to follow. (Current Picks dronemission.com/top5)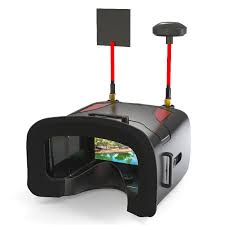 Just over 3 years ago, we had a challenge finding an affordable pair of goggles for FPV, let alone a DVR. Eachine VR D2 Pro Upgraded Goggle delivers an All-In-One (AIO) solution with built-in diopter correction lens, a DVR, dual diversity receivers, with RSSI, includes a tripod mount and best of all within budget

This is what I have been waiting for, corrective lenses for people who wear glasses, nearsighted, this helps just a little, I wouldn't say it is compatible for everyone, but I can now read the osd without glasses having been using -2.0 diopter on all my other goggles. I have the lens slide all the way to the front. There is a slider on the left and right, and you just adjust it to best fit your eyes.
User Segment

FPV Piloting, Off the shelves. Budget [$] (PRICE CHECK: $89.99 ■ May 2017 Arthur's Pick)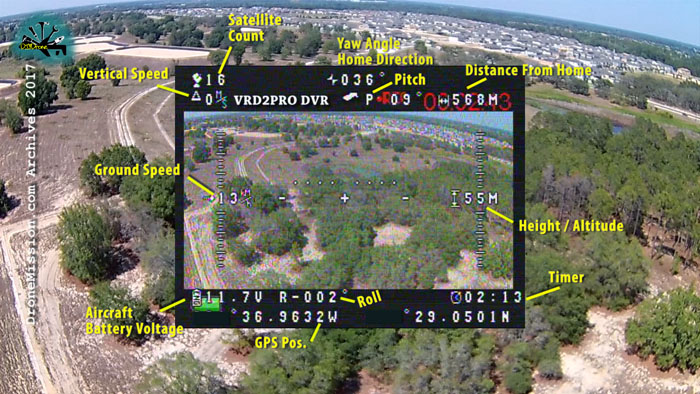 What To Expect
The menu system is broken down into 5 sections.
What I like about the upgraded functions are the On Screen Display (OSD) and Recieved Signal Strength Indicator (RSSI). The voltage of the goggle battery and frequency selection is shown; it is not recorded, but overlays on your screen. It is suggested that we calibrate the RSSI before each flight. The A&B signal strength helps me identify the direction of a lost aircraft to some accuracy, as you can hold the goggle against your chest and rotate around, and then foolow the direction with the strongest signal.
It accepts upto 64 gb of memory storage and records at 16000 kbps Bitrate at 29.97 fps.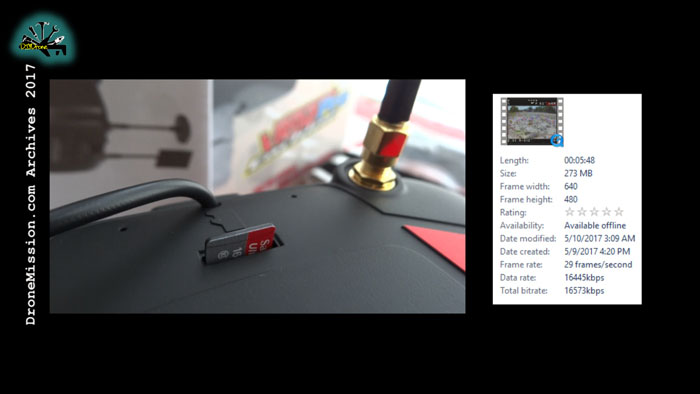 Competitors / Similar Models
Users have considered these 2017 alternatives: Eachine Goggles2, Walkera Goggle4, Kylin Vision
Factory Specifications
Screen size: 5 inches
Screen resolution: 800×480
Record : VGA(640*480),D1(720*480),HD(1280*480)
Frequency channel: built-in 40CH 5.8GHz receiver
Battery : 2S 7.4-8.4V Lipo battery
Battery duration: 2.5 hours
Antenna connector: RP-SMA
Mushroon Antenna : RHCP, 6dBi
Panel Antenna : 6dBi
DVR Max Support: 64G SD Card
Goggles weight: 285g (without antenna)
About Eachine http://dronemission.com/youtube/eachine/