Category Archives:
Fixed Wings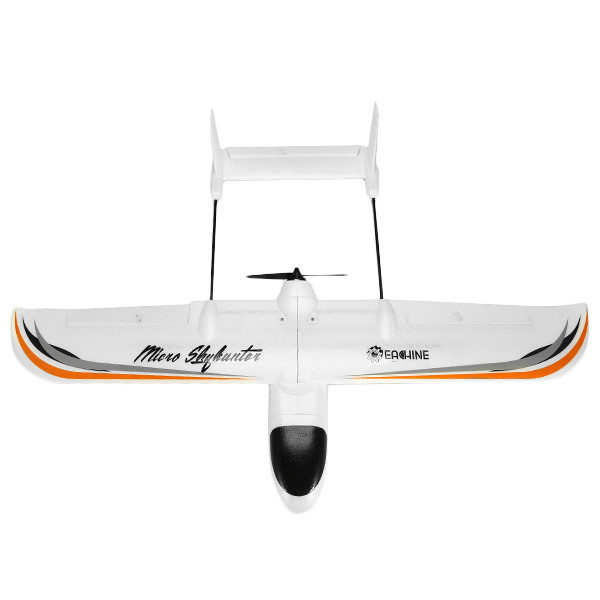 Skyhunter, has been an all-time favorite plane for lots of long-range FPV pilots. Eachine doing it's match, takes on the micro version, at 780 mm, 3 channels, plug and play. Take a break from the racing drones, here comes a racing plane. If you are looking for a budget, simple hand launch RC FPV plane with some speed, you may be in luck.
User Segment

Keen Beginners, Park Flyers, Plug and Fly, Budget $59 BNF (source: Dec 2016 Banggood)
What To Expect
The Micro Skyhunter FPV is one of the coolest miniature version of the Skyhunters released under the label of Eachine. I have here the FPV version with 40 channels and 800 tvl camera which you can just slip on or remove anytime.
Here is a video of everything you need to get setup.

The Skyhunter comes in this small box just under 1 1/2 feet, very well pack, box in a box and individually wrap. All electronics are pre-assembled, plug and play, so you can begin flying on the same day. It comes with a few cabon fiber spars, the main spar and re-enfocement along the wings. You can see the signature look of a skyhunter with two veritical stablize. I like how everything is pre-installed, 5 grams servo, servo linkages are all ready using JR connectors. Included is a Hobbywing 20 amps electronic speed controller(ESC) with a XT 60 plug.
There is plenty of room, you have three separate compartments, one section for your receiver and flight controller if you are using one, and a two in one canopy held on by magnets for the battery and a convenient camera fpv bay. The wings are held together with two bolts.
The camera is pretty good, other than the 25 mw range limitation, we have no complaints. You can of course always use a different video transmitter. There are some crack lines, along the joints, but nothing too serious, I just add a little tape along it and tape along the leading edges, wing tips and base for additional protection and to prevent wear and tear.
Motor is powerful for this size plane, 2300 kv 2204.
The camera comes with a holder plate, very nice, and you simply secure it on the camera bay when in use. I just tape the plates down for easy removal.
Decals are included, but I like my usual red/blue white colors.
Overall, this plane has everything you need, easy to assemble as all the electronic are installed. It uses XT 60 which means LiPo batteries are easily available in the market. The bigger question is, are you up for a 3 channel plane, if you are, this is definitely a keeper within budget.
Flight Characteristics
Tracks very well, but not a great glider. We are currently completing a few more flights before reporting back. Standby.
Camera & Video Transmitter
The camera is okay, a 40CH 25MW VTX 800TVL 1/3 CMOS FPV Camera. See video for results.
Factory Specifications
Brand Name: Eachine
Item Name: Micro Skyhunter
Wingspan: 780mm (31″)
Length: 540mm (21″)
Channels: 3
Weight: 230g (without battery)
Color: White
Material: EPO
Camera: Eachine EF-01 AIO FPV camera
ESC: 20A 2-3s with XT60 connector
Motor: Eachine 2204 2300KV
Motor MAX Thrust:440g
Motor Weight: 25g
Motor Shaft Diameter: 3mm
Propeller: 6×3 or most 5-6″ multirotor props
Servos: 3x 9 gram
What we love about it
Well design and quick assembly
What is essential we hope to see in the next version
Nothing really to change, but love to see more miniature version of classic planes under the Eachine label