Eachine Mirage E500 VTOL Vertical Take-Off Landing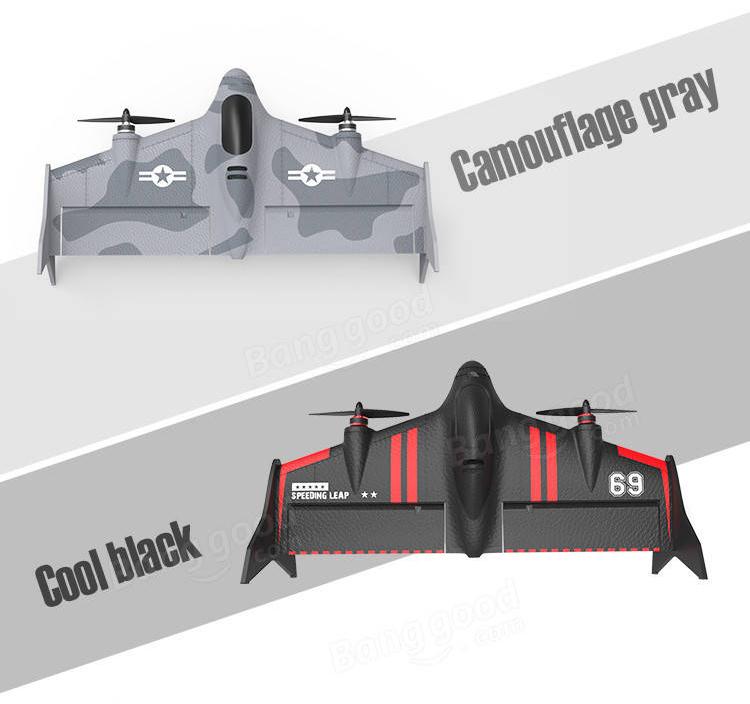 A vertical take-off and landing (VTOL) aircraft is one that can hover, take off, and land vertically. Eachine recently released a budget Mirage E500 VTOL Wing, and this is great venture into the next generation of radio control aircrafts.  When I can take-off and land vertically, I don't have to worry about a runway.
We received a bind and fly sample to test, and with it includes a basic 3rd party FrSky receiver to complete the tests…
Brand Name: Eachine
Item Name: Mirage E500
Material: EPP
Wingspan: 500mm
Length: 260mm
Fuselage Height: 85mm
Winglet Height: 163mm
Motor: 1806 2300KV Brushless *2
Servo: 3.7g *2
Propeller: 5030 two leaf self-locking
Battery: 2S 7.4V 600mAh 25C LiPo
Flight Weight: 180g
CG: 125-135mm from the trailing edge of the wing
Flying Speed: Up to 100km/h
I completed multiple binds with the micro receiver provided, I tried on the Taranis X9D and Horus X12S with no bind issues. One of our standard test before taking any aircraft out for a maiden flight is to test the failsafe when signal is lost.  I do this test indoors with propellers off and do a hard shut down of the radio transmitter while the aircraft is powered.  The test determines if the aircraft throttles up (very dangerous) or continues to hold the throttle when loss signal.  I call this the No Pulse Failsafe, most receivers default to continuously flying (throttle 50%) if Failsafe is not handled at the Flight Controller level.
Setting up No Pulse Failsafe is easy and this applies to all Frsky receivers, even the cheap ones.  You do the FrSky standard bind steps by holding down the bind button while powering in the receiver for about 3 seconds.  You then turn off everything and then power up the receiver first, press the bind button one more time, turn on the radio transmitter and your No Pulse Failsafe is all set.  Test it.
The rest of the configuration is even easier.  Setup the 6 channels by following this chart, we use the SB switch for flight modes VTOL/ Horizontal Plane Mode/Acro and the SF switch for dual rates.  I like to be in control of my flight path while changing flight modes, so I usually use the left switches for mode 2 piloting.  There is nothing else that needs to be added to begin flying, once you have failsafe and the 6 channels setup.
Audible switches are optional but you will be missing half the fun if you don't use your talking radio transmitter.
Take off with confidence, give it a good thrust and lift-off.  Initial vertical take-off performed flawless, however after a few minutes of vertical flying in different rates, it begin to tip horizontally.  Wind is definitely not your friend in VTOL mode.
Once airborne vertically, you will find no issues changing to the horizontal flight mode.  It will drive like a car on ice, using left or right motor differential thrust to propel the Mirage, making wide turns with full stabilization.  It does not use any ailerons at all.
Switching to Acro mode, is when you in true Plane mode, flying like a typical flying wing with corrective stabilization.
Best Practices
During vertical take-off, give it a confident punch, do not try to fly it until you are about 3 or more feet high.  If not you will find your plane tipping over during vertical take-off.
Be prepared to fight the wind next, when vertical.  Follow the same plane principle, face the wind when taking off.  Just be careful that everyone around is aware the plane may drift backwards with the wind.  This may be the best time to engage plane mode and fly horizontally.
To land, strike a balance of power and flight.  If there is some wind, take the opportunity to hover in flight and switch to VTOL.   You may need to increase your trust when vertical, so be prepared to increase your throttle first and then slowly throttle down to descend.