Walkera Rodeo 150 Review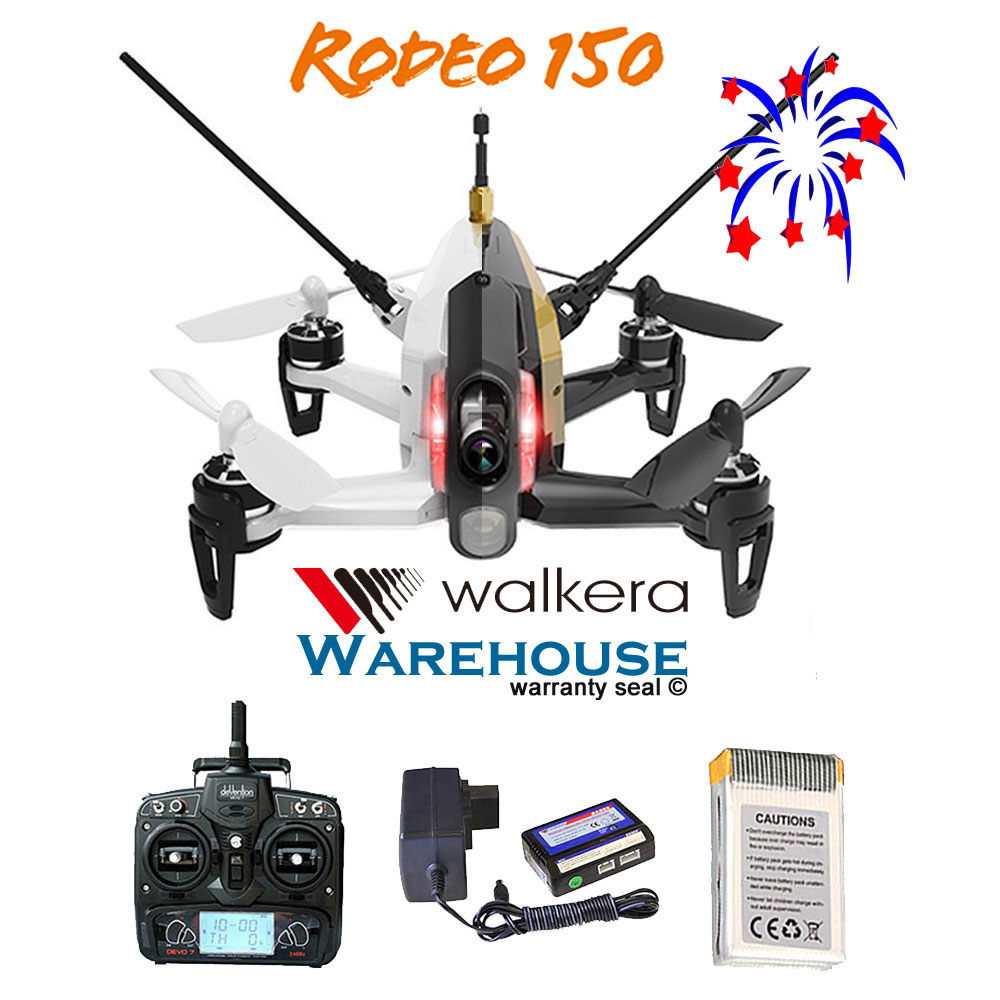 Introducing Walkera Rodeo 150, a unique and slick looking 15 cm size quadcopter, with a mix of  racing drone aerobatic features from the F3 flight controller, and the classic Devo 7 radio transmitter programmability.  The quadcopter was designed to weigh less than 0.55 pounds for hobbyist who rather not register with the FAA in the USA.  It is not a full fletch racer but a speedy mini quadcopter with brushless motors, a category of mini quadcopters gaining popularity recently.

First Impression, we love the Rodeo 150 design and the color scheme, a mini-me of the Walkera F210.  Kudos to the Walkera drafting engineers.  You can use an external receiver, which means you can use any programmable radio transmitter you may already have, making this a popular BNF quadcopter.  The material used is light-weight Acrylonitrile Butadiene Styrene (ABS), a common thermoplastic polymer (also used by Lego).  It is impact resistance, but not strong enough to take a direct impact against a tree or slamming onto concrete.
Target Users
Keen Beginners, Park Flyers, Ready To Fly, Off the shelves, Collectors, Budget USD$229 MAP (May 2016)
What To Expect If This Your First

You can easily spend 11 minutes on each flight, setting up and flying. The actual flight may last 6-8 minutes. On a Mode 2 radio transmitter, throttle stick is on the left.
Power on your radio transmitter first, make sure your throttle stick is at the lowest point or you will be reminded with beeps to do so. Check to make sure all your switches are up (position 0). Connect your battery to your copter, lay the copter flat on a hard surface immediately. This will allow the copter to self-level the gyroscope.
Once the red light flashes slowly, you have successfully bind with the radio.  Move your left throttle stick down to the lowest point and to the left, to unlock (arm) the motors.   The copter is now live.  To lock (disarm), move your left throttle stick down to the lowest point and to the right.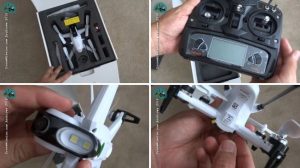 The copter LiPo battery may get a little warm after each flight. When the voltage is low (7 volts), the copter red lights will begin to flash quickly and begin to sound an beeping alarm at the same time.  You should manually land within 30 seconds to prevent the battery from over-discharging. Over-discharging a LiPo battery below 3 volts per cell, can permanently damage the battery. It is best to let the LiPo cool down before the next charge.
There are three flight modes, Stabilize, Intermediate and Advance assigned to the Mix Switches. You can only flip and roll with ease on Intermediate and Advance mode.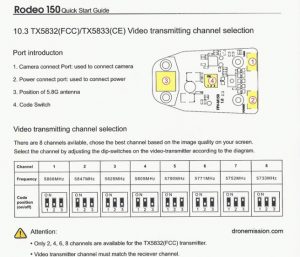 Flight Characteristic
The Rodeo 150 is agile.  We are currently completing a few more flights before reporting back.  Standby.
Similar Model Aircrafts
Users have recommended these 2016 alternatives:  the XK 251, Cheerson CX-91, JJRC X1
Camera
The camera is a sharp 600 TVL camera, capable for night flying. PAL/NTSC.  See video for results.
Factory Specifications
Main Rotor Diameter: 96mm
Overall (LxWxH): 137 x 148 x 77mm
Weight: 215g, 0.47 lb (with battery)
Stock Radio Transmitter: DEVO 7 / DEVO F7
Receiver: DEVO-RX716
Main Flight Controller: FCS-Rodeo 150
Transmitter: TX5832(FCC)/TX5833(CE)
Camera: 600TVL DC 5-12V
Brushless motor: WK-WS-17-002(CW/CCW)
Brushless ESC: Rodeo 150
Battery: 7.4V 850mAh 30C 2S LiPo
Flight Time: 7-8mins
Working Temperature: -10℃~+40℃
What We Like About It
The speed and agility
Credits to the unique and futuristic design
Almost everything about it!
What We Would Like To See On the Next Version
DVR recording
Tail LED lights