Walkera F210 3D racing drone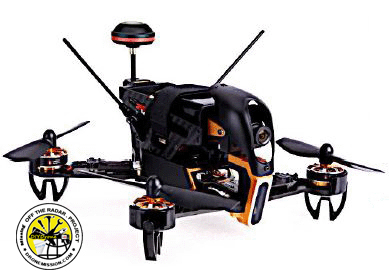 Walkera does it again, taking the guesswork out of putting together a 3D racing quadcopter drone. F210 3D is a quadcopter with an optimized F3 flight controller paired with reversible electronic speed controller (ESC), allowing you to reverse the motor at mid point to fly upside down in a 3D manner. At flight mode 0 (FMOD=0 factory default) normal flight takes it toll 2D, flip the switch to FMOD=1, take-off in 3D mode, motor brakes and reverses at mid-point.

F210 3D is upgraded with faster receiver response time, stronger frame, and superior low lux Sony HD camera. Pre-installed with a 5.8 gHz video transmitter and On Screen Display (OSD) to assist pilot in flying and replaying every favorite scene of a flight…
How to engage 3D on a Devo Radio:
•Replace your racing propellers to 3D propellers.
•After binding the radio transmitter, you turn the FMOD switch to 1 or 2.
•This puts the throttle stick at about midpoint, 45%-49% position (show on your screen)
•You now unlock (arm) at the midpoint, by moving the Rudder (Yaw) stick to the left side and hold for more than 2 seconds.
•You will see the right red LED light keeps on and buzzer issues a "B B" tone, indicating the motors are unlocked.
•be very careful now, at this point pushing the throttle up above midpoint will start the motors and lowering below midpoint will reverse the motors.
• To STOP the motor instantly, flip the switch to 2D FMOD=0, and lower your throttle to zero and right (lock to disarm). This also acts as your safety switch.
Please note, your original F210 can be 3D too, you just need the 3D props and program it yourself (ESC), or you can buy it ready RTF from Walkera. Your Devo radio are programmed exactly the same.
Complementing with the F210 3D is the Walkera Goggle4, a HD Headplay with 40 channel and DVR, dual diversity antenna with a 1 km 5.8 gHz video range.