Tarot TL300L OSD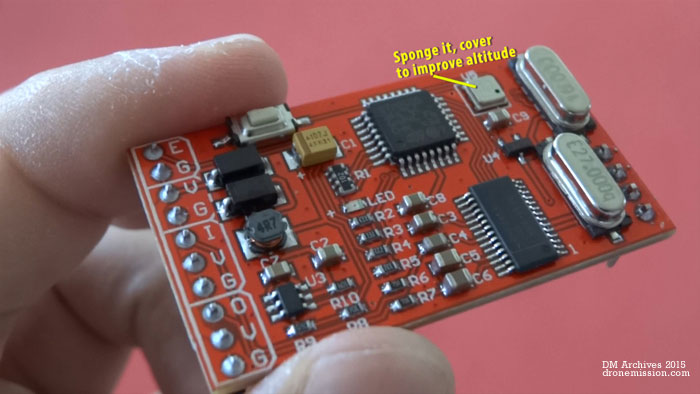 TAROT OSD mini TL300L perfect for 250/300 quadcopter size, allows you to configure directly on your monitor/goggle. It is intended for a racing quad, but can be used on any FPV models. it uses barometer to determine the height and and GPS module for position.
INSIDE LOOK:

OSD video overlay system has the following features: VTx Voltage, Eng Voltage, Flight Time, Flight Speed, Flight Height (altitude), Home Direction, Home Distance, Total Voyage (duration), Lifting Speed (vertical), Longtitude Latitude (GPS), Satellite Number (Count), Azimuth (location of the plane in the sky from the perspective of the base station). HOME OK is set when 6 satellites count are met…
First Impressions: Initial test. Barometer Altitude 2m+- Distance from Home 1m+- which is fine . Voyage (Mileage) it seems to add up the gps drift; unless you need to know your mileage besides duration or voltage, i will turn this off. 6+ satellites within 15 seconds here. Home direction on two 300m flights were accurate.. just keep moving, as it uses the gps to determine directions, and it takes you home. This light Tarot osd was designed for 250 size quad in mind, but i am slapping it onto any fpv models for a quick home direction and a way to recover a lost model by recording the gps positions.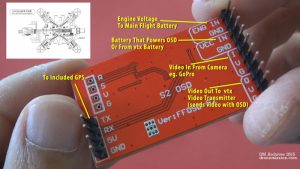 Specifications:
Chinese/English interface
Dual voltage detection range: 0 ~ 16.8V / 0 ~ 30V
Video output: NTSC or PAL (OSD can be set)
Operating voltage: 7 ~ 16.8V
Current: 100 mA (12V)
OSD module: 46 × 26 × 8
Weight: 18 g (with GPS module)
Button functions:
Short button press to save the home position, long press to enter the setup menu. Double-click twice as fast switching video formats (can also be switched in the Settings menu)
Press the Setup menu for the selection function.
Multimeter measures the battery voltage, battery voltage. Calibration voltage only with 3S LiPo, so use a 3S LiPo only if you plan to make adjustments.
The OSD is powered on the VCC IN, so if you are flying with one LiPo, power it on VCC, note (2S-4S).