Syma X5HW WIFI Quadcopter
X5HW made by Syma introduces the next generation of budget mini quadcopters with barometer sensors for Altitude Hold. Pressure sensors are not new to the quadcopter drones scene but not many mini copters carry them.
First impression, this quadcopter is a great beginner's budget quadcopter. Number 1, dual arming protocol prevents a newbie from accidentally bumping the throttle and spinning up the blades. Number 2, two gear speed, Low (L) rates from indoors flights and High (H) rates for outdoors and windy conditions. Number 3, when the quadcopter encounters a direct impact or is struck on the propellers, the motors will shut off. Number 4, and best of all, it holds the altitude while the pilot focuses on forward flying.

The Syma X5HW is easy to fly, stable, it does some nice bank turns. It can handle moderate amount of wind outdoors. It is small enough to fly indoors and comes with protective guards. The Android FPV WiFi app for Syma FPV connects instantly, photos and videos are viewable within the app.
The range is limited to 50 meters and do suffers from some intermittent lost of control
Target Audience
Beginners, Off the shelves, Ready To Fly, Safety First, Park Flyer, Budget $60 (2016)
What To Expect If This Your First
You can easily spend 11 minutes on each flight, setting up and flying. The actual flight may last 5-7 minutes. On a Mode 2 radio transmitter, throttle stick is on the left.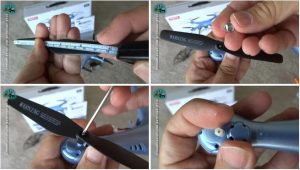 Connect your battery to your quadcopter, close battery door and power on, lay the quadcopter flat on a hard surface immediately. This will allow the quadcopter to self-level the gyroscope. Power on your radio and move your left thottle stick up and down once to bind the receiver. When you are ready to fly, hold both sticks inwards to arm the motors, the propellers will begin to rotate slowly. The quadcopter is now live and has entered into flight preparation mode. To stop the motors, hold the left stick to the lowest point for 3 seconds.
The quadcopter LiPo battery may get a little warm after each flight. When the voltage is low, the quadcopter four lights will begin to blink and will begin to descent to prevent the battery from over-discharging. Over-discharging a LiPo battery below 3 volts per cell, can permanently damage the battery. It is best to let the LiPo cool down before the next charge.
You must set the speed to High (H) rates for outdoors.
With a 6-axis gyro flight controller, you can toss your quadcopter in the air and throttle up in full to self-level. Lower your throttle stick to about half once you regain control to hold the altitude. You will than need to yaw around to identify the front or back, to regain your orientation. If it helps, mark the back with red tape to make it more visible.
To complete an auto flip, fly to about 10 feet and press the top right button, and move the stick in the direction you want it to flip. It will auto flip!
If you lose radio signal, the quadcopter will drop, it would have been better if it descend slowly. Not by design, but as a last option, just power off, in an emergency if nothing else stops.
Don't expect to be able to fly with the camera in first person view, as the camera lens view is rather narrow. The video also freezes when there is poor WIFI reception.
You may not be able to view the video recorded within your tablet if your equipment does not support 3GP playbacks. Video files are saved in 3GP format. 3GP is a video format specially developed for third generation mobile devices. You can view the video within the Syma App if your Gallery does not support 3GP or upload to goggle drive and view it there or use some other software.
Factory Specifications:
Color: White, Blue
Frequency : 2.4G
Channel : 4CH
Gyro:6 Axis
HD Camera:Photos(2MEGA), Video(1MEGA)
Battery for Quadcopter: 3.7V 600mAh Li-poly
Transmitter Battery: 4 x AA battery
Charging Time : About 90 mins (USB charging)
Flying time : About 5~7 minutes
Charging time:About 130 minutes
Controlling distance:About 30-50 meters
Product size:33*33*11cm
Box Size:41.5*34*9.5cm

The propellers tend to break around the screw into half, as on impact the stress is placed on the screw on the shaft. Replacing the propellers are easy, but a handy screw driver is needed.
Features:
WIFI FPV with 2.0MP HD camera.
With Altitude Hold mode, setting height.
Headless mode, 360 roll.
6-Axis gyro flight, for stability, stronger wind resistance and easier control.
The quadcopter can fly both indoor and outdoor using 4 channels digital proportional RC system, 2.4 gHz
Functions: up/down,left/right sideward fight,forward/backward,turn left/right,with gyro/flash lights,A 360-degree 3D and special functions (continuous rolling)
Conclusion, this quad flies without doubt. If you are a beginner who wants to learn to fly, we will recommend the Syma X5HW over any other quadcopters for the four reasons stated above. It is a nice looking quadcopter, however if you looking to video or to fly FPV (first person view), this quadcopter will not give you the full experience or capability to do so well. Unfortunately glitches on the signal and range limitation puts this quadcopter prone to fly away, but for $60 you can weigh in if those limitation matters to you.
In terms of ranking, I would say it is in the mid half of what's new in the market April 2016 ($61), but not on the top 3 because of the tablet app and the signal glitches. (Current Picks dronemission.com/top5).