Syma X51 Spaceship Quadcopter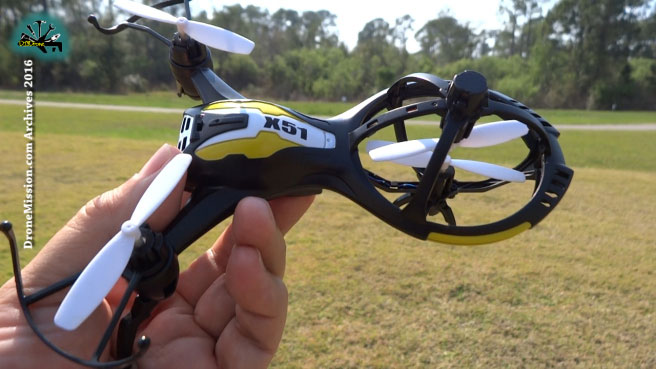 Syma X51 Spaceship Quadcopter is a unique quadcopter design, looking like a USS Enterprise. At first glance you may think it is a tricopter, but taking a closer look, it is a quadcopter with a pair of counter-rotating propellers at one end, stack above each other in a spheroid cage. We will take it for a test and report on it next week.

There is nothing to assemble, it is truly ready-to-fly. Very stable in flight for a unique design. The pair of counter-rotating props allows the quadcopter to yaw around quickly but banking on a turn is not at all pretty. The 6-axis flight control system allows you to toss the X51 in the air and stabilize in flight. We flew it indoors and outdoors. We manage to fly the X51 against 10 mph wind gust, even though you may find the X51 occasionally gets pivot around, as it is counting on the pair of hind rotors to keep it on track and will pivot around the spheroid rotors with a gust of wind. Every aircraft we have flown has it's unique characteristic, after two flights we begin to maneuver around with yaw stick. So if you are not big on your rudder stick, you will soon adapt to it…
The propeller guards and cage protects the propellers very well. You get a spare set of propellers and a spare battery. The battery fits snugly in a battery bay, the door may seem tight at first, but once you know where the tabs are, it is easy to open and close. Love the design, the super micro LED lights up nicely.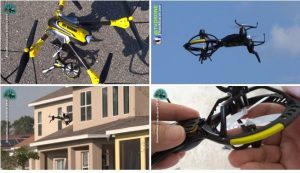 Automatic Cruise – When you activate the automatic cruise feature, the quadcopter will cruise automatically according to the preset trajectory
360° Eversion – One key 360°roll in 3 ways (Backward, Left & Right), continuous roll for perfect action and wonderful performance.
6 AXIS GYRO – The latest 6-axis flight control system is easier than ever to control, with stronger wind resistance, and greater stability.
LED Lights – Now fly your quad at night, and easily keep track of your quad with the attractive colorful light display.
Specifications:
Frequency: 2.4GHz
Channel: 4CH
Battery: 3.7V 380mAh Li-Po battery with auto cut off safety PCB
Flight time: up to 6 minutes
Charging time: 40~50 minutes
Control distance: up to 30 meters
Product Size: 6.7 x 5.7 x 2.9 inches
Product weight: 0.1 lbs
Package size: 7.5 x 12.4 x 2.95 inches
Package weight: 1.1 lbs
If you are a big Syma fan, which we are, this is a great addition to the collection, in fact almost a must have. It is not exactly a beginner quadcopter, as it does not fly like one. However, since it is small enough to fly indoors, it is easy when it is calm without any wind; giving you the opportunity to hover around, like flying a micro helicopter, except with 4 channels!