JJRC H28C Camera Drone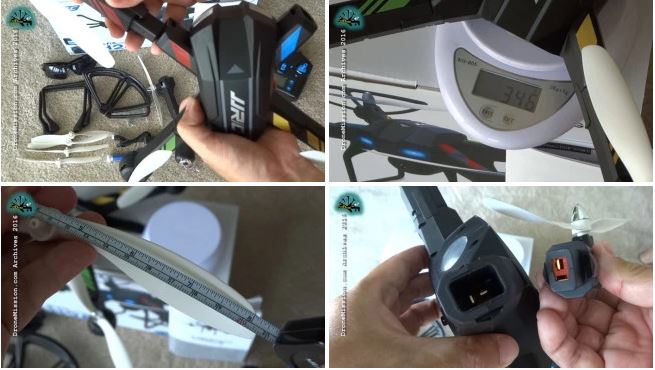 JJRC unique quadcopter design with a detachable arms is welcome by many park flyers. The JJRC H28C comes ready to fly (RTF), propellers all assembled, with a 2.0MP camera, made to reduce transportation size. All you need is to reattach the arms and add the optional camera and landing skid to begin flying.

First impression, the concept of detachable arms is great, but some hasty changes to accomplished the design, may require a second look and refinement. The arms are attached with classic t-plugs aka Deans connectors and hook on with side clips. The material used is light-weight Acrylonitrile Butadiene Styrene (ABS), a common thermoplastic polymer (also used by Lego). It is impact resistance, tough and heat resistance, but the interlocking joints weaken the structure and makes it vulnerable to break along the arms. The JJRC H28C quadcopter flies at moderate speed with a 2 cell 30c battery. Not really recommended for beginners, but if you are keen to learn this is a nice size quadcopter with protective guards. It is stable, you can do some nice turns with both sticks on a turn at the same time. It can handle moderate amount of wind outdoors…
Target Audience
Keen Beginners, Park Flyers, Ready To Fly, Off the shelves, Budget under USD $80
What To Expect If This Your First
You can easily spend 15 minutes on each flight, setting up and flying. The actual flight may last 8-10 minutes. On a Mode 2 radio transmitter, throttle stick is on the left.
Connect your battery to your quadcopter, close battery door and power on, laythe quadcopter flat on a hard surface immediately. This will allow the quadcopter to self-level the gyroscope. Power on your radio and move your left thottle stick up and down once to bind the receiver. The quadcopter is now live, and movement on the throttle stick will rotate the propellers. To stop the motors, lower the left throttle stick to the lowest point.
Not all propellers will start at the same time. No fear, throttle up to 60%, forward and it will stabilize in flight, when the gyro compensates for the thrust produced by each propeller. Binding on a flat surface can also help correct the leveling of the quadcopter.
The quadcopter LiPo battery may get a little warm after each flight. When the voltage is low, the quadcopter four lights will begin to blink and will begin to descent to prevent the battery from over-discharging. Over-discharging a LiPo battery below 3 volts per cell, can permanently damage the battery. It is best to let the LiPo cool down before the next charge.
There are 3 level speed switching between 40 / 60 / 100 percentage for both beginners and expert mode.
With a 6-axis gyro flight controller, you can toss your quadcopter in the air and throttle up in full to self-level. Lower your throttle stick to about half once you regain control to hold the altitude. You will than need to yaw around to identify the front or back, to regain your orientation. If it helps, mark the back with red tape to make it more visible.
The landing skids are a little too narrow, making it difficult to land without toppling over.
To complete an auto flip, fly to about 10 feet and press the top right button, and move the stick in the direction you want it to flip. It will auto flip!
If you lose radio signal, the quadcopter will continue to fly, it would have been better if it descend slowly. Unfortunately there is no way to stop it from flying away, if you lose radio signal or when your radio transmitter is out of service.
Factory Specifications:
Brand: JJRC
Item No.: H28C
Copter Size: 47 x 47 x 19cm
Diameter: 56cm
Weight: 390g (DM Minimum Flying Weight: 346g)
Charging Time: About 150min
Charging Protocol: USB
Flight Time: 8 – 10min
Frequency: 2.4GHz
Gyro: Built-in 6 Axis Gyro
Camera Pixel: 2-mega-pixel
Control Distance: About 250m
Copter Battery: 7.4V 30C 1200mA Lipo Battery
Battery Size: 3 x 1.7 x 6.8cm
USB Cable Length: About 65cm
Control Battery: 4 x 1.5V AA Battery
Function: Turn Left / Right, Forward / Backward, Up / Down, Left / Right Sideward Flight, with Light, Rollover, Speed Switching, Film and Shoot, Headless Mode, Hover, One Key Automatic Return (none GPS), Trim
Flight Characteristic
The H28c tends to yaw at a high rate, a little movement on rudder stick will rotate the quadcopter, go easy on the yaw.
Press the top left button to increase the level speed switching from 40 to 60 or 100 percentage for outdoor flights, to give you better control over the H28c
Conclusion
The concept of detachable arms for transportation is great, but I personally feel that the design to it can be more refined instead of just dean t-connectors to each arm. Quick assembly to the landing skid and propellers guards should follow the theme. Self tightening propellers would have been appropriate too.
Since the camera is not really something I would rave about, I would suggest purchasing it without the camera, and maybe place a HD keychain camera. A remotely controlled candy drop box would have been a better idea.
If you are looking for a budget quadcopter for casual flying, this quadcopter is appropriate. The quadcopter has a good range but without failsafe, flying beyond half the distance of line of sight can pose a risk.
In terms of ranking, I would say it is in the lower half of what's new in the market April 2016 ($79.99) due to lack of failsafe. (Current Picks dronemission.com/top5).
Feedback to JJRC or Notes Worthy Cons
Failsafe needs to programmed, when you lose radio signal after 5 seconds, the quadcopter descend slowly.
Glitches, losing yaw control at times.
To improve on camera, since it is below par compared to similar budget quadcopters (2016)