Hubsan X4 PRO H109S Parachute
Finally the Hubsan H109S X4 PRO quadcopter to be officially released, maybe? We originally filmed the micro Hubsan x4 H107D that reached 350,000 views youtube very quickly back in 2013, so today I am back to take the X4 Pro for a DroneMission flight, at the same time provide some feedback on the new and improved X4 Pro. Since 2014 Hubsan has been talking about the x4 Pro H109S; along the way there were pre-releases, testing, and more testing. Two drone years in the making, will it live up to the reputation? The challenge is in 2 years, a lot can and have changed and Hubsan found themselves in the midst of an evolving technology, outdating applications and a price war in this industry.
To differentiate this pro quadcopter from it's competitors, Hubsan included a Parachute System; when bumped in a collision, the parachute will automatically deploy to prevent the X4 Pro from crashing. Unlike other systems, the Hubsan parachute can be removed or assembled freely and be reused many times. When the canister tilt past 80 degrees, the sensor unlock the lid, and the spring pops the parachute out…
In addition, to differentiate this pro quadcopter from it's competitors, Hubsan seem to have done things differently to confuse users like me.
Flight time:
around 30 mins
Battery:
11.1V 5300 mAh Lipo battery
ESC:
30A
Transmitter:
FPV version
Frequency:
2.4GHz/ 5.8GHz
Video Distance:
300-2000meters
Motor to Motor distance:
260mm
The propellers and motors are reversed, the switches are reversed. On the positive side, I can see some lessons learned and best practices have been introduced into the x4 Pro design, in an attempt to avoid some of the known failures suffered by other competitors over the two years.
The core features of the x4 Pro are: accurate automatic return to launch point, a 1080p 30 fps HD camera, a smartly designed radio transmitter with telemetry, nice FPV ready 5.8 GHz build-in video transmitter, GPS location tracker for position hold, One Key Take Off, headlock mode and auto landing.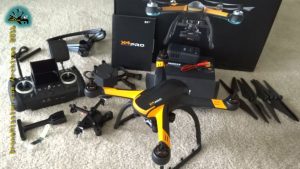 The ergonomic design of the Hubsan radio transmitter is what first attracted me to the X4 Pro H109s and the Spyhawk GPS plane. I like the wider width radio transmitter with a monitor in the middle, seemed like the perfect width aligning with my arms, compared to a narrower width Devo F12e (of course the Devo f12e street value doubles when you deviate it!). Aside from the switches being nonconforming and an incomplete TF card slot, the standard radio included works well, the LCD monitor is informative and the gimbal dials are reachable while you fly (whereas the xk x380-500 radio transmitter has an impractical dial for a mode 2 pilot). The telemetry on the screen is not recordable without the dvr, but it does show voltage, home direction, gps counts with alarm. On Screen Display (osd) would have been a better choice, in that way data can be recorded over video on an external dvr, such as a goggle.

I have not seen any instructions on how to program this radio and was hoping to share this radio with other aircrafts. The 8 AA battery bay can be tight for a LiPo and probably not a favorite for some diehard hobbyists, but it works very well with the Panasonic Eneloop Pro AA 2550mAh 1.2V Low Self Discharge Nickel Metal Hydride (NiMH) Rechargeable Batteries (if you have not tried them, they last a century).
Flight Notes (April 2016):
Maiden flight good, no issues, it flys as expected.   RTH 3 feet to launch point.!  RTH ascends to 30 meters first and returns with the tail facing, only if the preference can be changed (ref. XK, Walkera can be changed with PC software).  I am not able to yaw around the X4 Pro during return home unless I disengage the mode.
arming begins motor idling.  ok practice, visibilty is safer than a silent arm.
does not auto shut off upon landing, disarm idling motors to avoid toppling over.
Propellers original Phantom 3 Spare Part No 9 self tightening fits perfectly
Telemetry Home Direction H=0 degrees is heading home.
looks easy to use your own gimbal.  Both standard JR servo connectors easily accessible for a 2-3 axis gimbal.
Transmitter needs to bind during unbox, before anything will work, including the gimbal. Power on the X4 first, power on the transmitter and Press ENTER button within a second, or follow the manual to power TX first, than power the x4, whichever works for you.
X4 main battery bay is narrow
Unable to find the documentation of the OSD or LED  colour status
You can still view without a TF/SD card installed on the camera.
TF card slot present but holder is missing on radio transmitter (i guess design was canned)
Calibration similar to the xk, as for x4 rotating red LED for horizontal calibration, rotating green LED for vertical calibration, solid LED when done, followed by a beep.  Calibrate 1 or 2 also appears on screen, but it can be hard to see the screen while rotating at the same time.
Requires calibration on every flight
Radio transmitter alerts beeps every second when GPS is lost. Great feature.  Received 12 satellites today.
Notice motors and props reversed
noted switch reversed
throttle stick returns to center (dji), which meant I can't use the radio for the Hubsan plane or other quadcopters.