GTeng T901F Quadcopter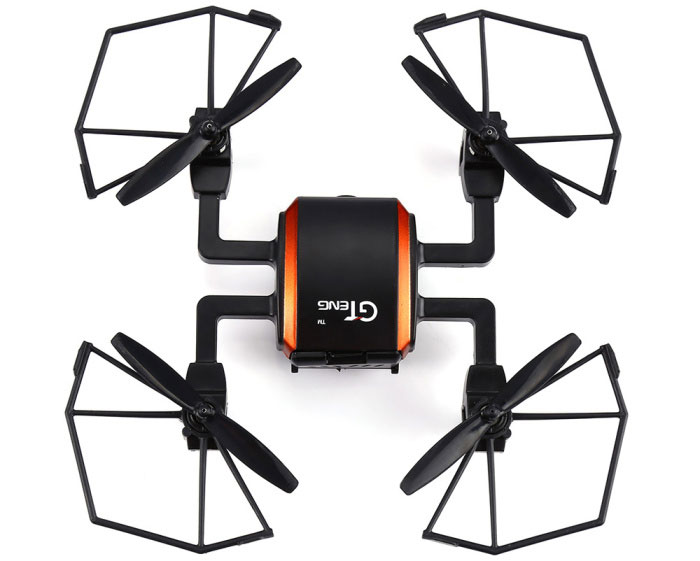 GTeng T901F is an unusual symmetrically spider-looking 16.5 cm outdoor quadcopter with a camera broadcasting at 5.8G frequency images transmission to your radio transmitter receiving monitor to view your flying. At 5.8gHz that would mean you can use your personal FPV goggle or any compatible external video receiver. The radio transmitter itself uses 2.4GHz to extend the range for outdoor flying and is powered by a 3.7V 500mA LiPo battery. Yes, you read it right, you get two chargers and two 3.7V 500mA LiPo battery out of the box, the second battery is to power the flying spider. The T901F carries a 6 axis gyro to ensure the stability and performance, allowing you to toss the quadcopter in the air and regain instant leveling.

I can picture the GTeng T901F in a Sharper Image, nicely package, a mini quadcopter with copper trims around the body, ready to fly, out of the box. Everything is pre-assembled, weighing just 67 grams, legally within the limits before registration is required in the USA.
The 2 mega pixel camera captures and records video upto 300 meters (our tests under 70 meters) in real-time transmission while you view it from the radio. T901F comes with the popular headless mode, basic one key automatic return function without GPS and 360 degree flip functions…
Factory Specifications:
Brand: GTeng
Item No.: T901F
Copter Size: 16.5 x 16.5 x 4cm
Charging Time: About 70min
Charging Way: USB Charging
Playing Time: 6 – 8min
Frequency: 2.4GHz
Gyro: Built-in 6 Axis Gyro
Camera Pixel: 2-mega-pixel
Control Distance: About 150m
FPV Distance: About 300m
USB Cable Length: About 60cm
Copter Battery: 3.7V 500mA LiPo Built-in Battery
Radio Transmitter Battery: 3.7V 500mA LiPo Built-in Battery
Summary of Functions: Turn Left / Right, Forward / Backward, Up / Down, Left / Right Sideward Flight, Headless Mode, Rollover, One Key Automatic Return, Film and Shoot, with Light, Speed Switch and Video Monitor.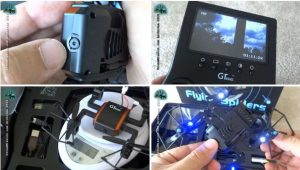 First impression, this quadcopter is easy to fly, stable, it does some nice turns. It can handle about 3 mph wind outdoors but not much more, as it struggles against the wind. There don't seem to be a higher rate mode from our tests to allow us to fly in high winds. Not recommended for beginners to fly in the wind, as it will get tossed around easily. It is small enough to fly indoors and comes pre-installed with protective guards.
The symmetrically design evenly distributes the weight and makes it very well balanced and easy to control. I had some reservation about 1s LiPo on a radio transmitter at first, but than if you are into RC, these 1 cell LiPo battery are affordable and easily available.
The image on the LCD screen is sharp and crisp but can be reflective under the sun. The recording is done at the quadcopter itself. Distance of the video is limited, we begin to lose video signal around 100 ft or 30m. A 4 gb micro TF/SD card is included. The camera seem to be tilted downwards, which is fine if you are flying slow and level. The camera is not adjustable unless you modify it and bend it upwards. No auto light balance as shown on the photo below.
Overall T901F Flying Spider does what it is described on the specification. An affordable toy-grade quadcopter that is easy to fly, no assembling required, ready to fly. It struggles to fly against light wind conditions. In terms of ranking the T901F, I would it say it is in the lower half of what's new in the market. (Picks dronemission.com/top5). You can get a bigger quadcopter for about the same price, but than big does not always mean better. If you plan to fly indoors, this will be perfect, but may be small too fly beyond 300 feet.
What To Expect If This Your First
You can easily spend 15 minutes on each flight, setting up and flying. The actual flight may last 7-8 minutes. On a Mode 2 radio transmitter, throttle stick is on the left.
Connect your battery to your quacopter and lay it flat on a hard surface immediately. This will allow the quadcopter to self-level the gyroscope. Power on your radio and move your left throttle stick up and down once to bind the receiver. The quadcopter is now live, any movement on your left stick will spin the propellers. You can close the battery door after the bind and self-leveling.
The T901F LiPo battery may get a little hot after each flight. When the voltage is low, the quadcopter will begin to descent to prevent the battery from over-discharging. Over-discharging a LiPo battery below 3 volts per cell, can permanently damage the battery. It is best to let the LiPo cool down before the next charge.
With a 6-axis gyro flight controller, you can toss your quadcopter in the air and throttle up in full to self-level.  Lower your throttle stick to about half once you regain control. You will than need to yaw around to identify the front or back, to regain your orientation.  If it helps, mark the back with red tape to make it more visible.
Keep an eye out, the propellers easily flies off after a few hard landing, but you can just easily plug them back. The quadcopter is made to take some good beating, and does not get damage easily, especially when you fly in a field.
To complete an auto flip, fly to about 10 feet and push the right stick inwards on your radio, you will a click and move the stick in the direction you want it to flip. It will auto flip.
If you lose radio signal, the quadcopter LED lights will flash constantly.
Don't expect to be able to fly with the camera in first person view, as the camera lens view is rather narrow, you may see a lot of ground unless you fly much higher.  Remember to stop your video recording, before you power off or your video file may become unusable.