FreeX MCFX-01 Drone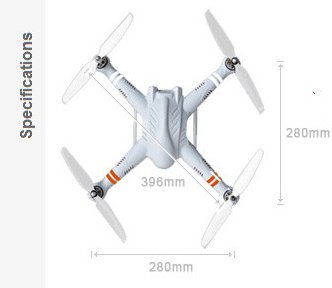 FreeX MCFX ! It seems like the FreeX is being revived, now the 4.0 edition, in a nut shell reading the specs, what caught my eyes are:
Lost signal: Automatic return or hover at last known position
Reduces speed as it approaches launch point during return home, when near 80m
Stock Range: 1 km
Onetouch4 configuration tool software
Channels: 7
6 Axis Gyro
FREE quality 2-axis gimbal with pitch control
Estimated price: $200!

History
FreeX is not new in the market, the SkyView has been in the market since 2014, marketed and backed by several prominent labels such as OFM, Xaircraft, manufactured by Skyartec ; along the way, Firmware V4 was released. I am not sure what else is different, but read on for everyone's updates in the coming weeks.
It is also interesting to revisit the history behind this model. Back in 2014, when DJI Phantom1/2 and Walkera x350 Pro were selling like hot cakes, any new models entering the market was welcomed with great excitement. Everyone, including distributors and dealers were craving for more and claiming their territory to be selling the next hottest "drone". You will notice there are several threads in the forum (several privately moderated thread) on the FreeX SkyView and lots of ranting, bickering at the start, and even today with scare tactics to brush any new sellers entering the market. After 2 long drone years, the FreeX has been revived from the grave, there is no need to carry those orange and white stripes dji-looks anymore, all that can be left behind, as a new chapter unfolds.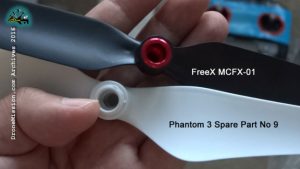 Factory Specifications
Model No.: FreeX MCFX-01
Country of Origin: Taiwan
Width & Length: 280mm
Height: 191mm
Diagonal base: 396mm
Propeller Size: Standard 9 inch (Supports upto 10 inch)
Flight Time: About 15-20 minutes with 3000mAh Battery (supports 3S only)
Flight Characteristic
The forward flight is fast, easy to handle.
User Segments
Beginners, Video Platform, Ready To Fly, Off the shelves, Budget USD$189.99 (May 2016 source: GearBest)
Tested propellers compatible with the original Phantom 3 Spare Part No 9 self tightening (available at BestBuy).  You can flybbeypnd your geofence on manual mode.
What To Expect If This Your First
You can easily spend 15 minutes on each flight, setting up and flying. The actual flight may last 10-15 minutes. On a Mode 2 radio transmitter, throttle stick is on the left.
You must complete a compass calibration on your first flight outdoors.
Move both stick up and together, immediately begin to rotate the quadcopter horizontally, side and forward, quickly non-stop.
Set it down flat and move both sticks up and apart to complete the calibration.
Disconnect the battery to reboot, to use the new adjusted magnetic north.
To test the compass, find north and point the quadcopter north, a blue light should come on the left rear LED. Tilt it 45 degrees down and up, it should stay blue.
When to cailibrate:
When you change venue a long way from your last flying location (greater than 100 miles).
When your quadcopter is drifting or rotating in a "toilet bowl effect" fashion. The inclination and deviation has to be corrected through compass calibration. The inconsistencies between GPS and compass will cause that swirling motion, in a tug-of -war for direction.
After a firmware upgrade, as it may carry the factory magnetic values.
Connect your battery to your quadcopter, close battery door and power on, lay the quadcopter flat on a hard surface immediately. Power on your radio and wait for the GPS blinking green light, signaling enough GPS has been acquired. I found that I will only receive GPS outdoors, so fon't a green light indoors always.
START
When you are ready to fly, move your left throttle down and to the right, to arm the motors. The propellers will begin to rotate slowly, the quadcopter is now live, any movement on the throttle stick will accelerate the motors.
STOP
To stop the motors, lower the left throttle stick to the lowest point and to the left For 3 seconds.
Further digging, led me to believe this quadcopter carries the new 4.0 firmware with added 2 failsafe design.
the flight controller will detect a loss of signal from the receiver and will auto-return home.
the new receiver will send signal to flight controller every second, if MCU of receiver has any problems (faulty), the quadcopter will auto-return (whereas the old version receiver doesn't send any signal to flight controller).
Similar Model Aircrafts
Users have recommended these 2016 alternatives: the XK x380, Hubsan X4 Pro H109S, UpAir Chase
What we love about it:
Good Forward speed
Stability and easy to fly
True North Indicator for Compass Calibration
What is essential we hope to see in the next version:
Improve on Gimbal, as it tends to pitch down for no reason