FQ777-126c Spider Drone Hexacopter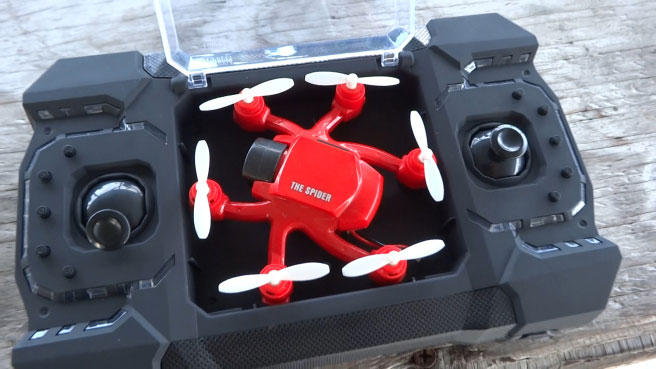 Made by FQ777 (yes, that is the brand name), model Spider 126c is quite a unique radio control hexacopter.  Made to be portable, it is stored in a self-contained case / radio transmitter along with all the accessories in a compartment.  A nice showpiece if you are a collector and this hexcopter flies amazingly.

First impression, we like the radio transmitter travel case, it keeps the copter away from dust, stores a set of spare propellers, dual chargers and propeller guards.  At first glance you will also noticed there are too many buttons, the most buttons we have ever seen on a radio, unlabeled.
Target Users
Beginners, Park Flyers, Ready To Fly, Off the shelves, Collectors, Budget under USD $37 (2016)
What To Expect If This Your First

You can easily spend 11 minutes on each flight, setting up and flying. The actual flight may last 6-8 minutes. On a Mode 2 radio transmitter, throttle stick is on the left.
Connect your battery to your copter, lay the copter flat on a hard surface immediately. This will allow the copter to self-level the gyroscope. Power on your radio and move your left throttle stick up and down once to bind the receiver.   The copter is now live.
The copter LiPo battery may get a little warm after each flight. When the voltage is low, the copter four lights will begin to blink slowly and will begin to descent to prevent the battery from over-discharging. Over-discharging a LiPo battery below 3 volts per cell, can permanently damage the battery. It is best to let the LiPo cool down before the next charge.
There are three speeds, Low, Middle and High. You can set the speed to High (H) rates for outdoors, but we were able to fly with Low rates with 5 miles wind gust.
With a 6-axis gyro flight controller, you can toss your copter in the air and throttle up in full to self-level.  Lower your throttle stick to about half once you regain control to hold the altitude. You will than need to yaw around to identify the front or back, to regain your orientation.  If it helps, mark the back with white painter tape to make it more visible.
To complete an auto flip, fly to about 10 feet and push the right stick inwards on your radio, you will a click and move the stick in the direction you want it to flip. It will auto flip.
Flight Characteristic
The Spider 126c tends to yaw at a high rate, a little movement on rudder stick will rotate the copter, go easy on the yaw.
Being hexacopter, it very stable in forward flights and hovering.
Camera
The camera is capable of 2.0MP but don't expect too much out of it.  It seem to be focus at close distance and out of focus anything over a meter.  Since the radio transmitter buttons are not labelled, we recommend that you put sticker on the middle right button.  To start or stop recording a video, hold the button down 2 seconds for the sound of a beep.  A short press will take a photo.
Factory Specifications
Item No.: FQ777-126C
Hexacopter dimensions: 108x98x25mm
Transmitter dimensions: 181x114x48mm
Colors Available: Red, White, Black
Range: 50M
Camera: 2.0MP
Charging time: 30 minutes
Flying time: About 8 minutes
Frequency: 2.4Ghz
Flight battery: 3.7V 220mAh Li-Po battery
Transmitter battery: 4 x AA battery
Charging voltage: 3.7V