Firefly 7S HAWK-EYE
HAWK-EYE Aerial Video Technology is known for it's ultra vivid cameras with GYRO image stabilization. The Firefly 7S 4K FPV action sports camera camcorder is the latest entry into the market with a 2 inch LCD screen. This comes as a nice surprise, following suit the recent Mobius-looking Q6 camera that is taking the market by storm this month. With the LCD screen, it allows you to see what you are filming; at times you only get one chance on a shot, and not seeing what you are filming, can be a  disappointment if you missed that only shot.

HAWK-EYE Aerial Video Technology series of cameras took the challenge to GoPro with a third of the price, putting GoPro in a tough spot. This round, a new challenger to it's rival, Git2.
What caught our attention
With a bigger 2 inches LCD screen with real-time playback preview Camera
Remote Start and Stop recording using receiver (option)
HDMI Output
High video resolution 2160p@24fps
GYRO image stabilization
Auto power on and gracefully turns off after your aircraft battery is powered off !
Compatible with GoPro gimbals, battery and waterproof case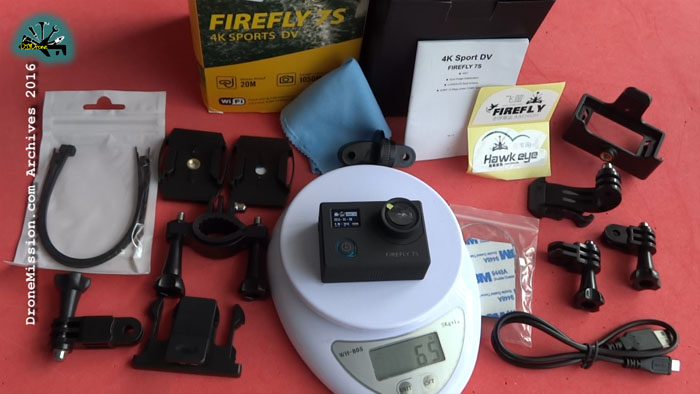 User Segment
Camera Enthusiast, FPV Ready, Budget (Aug 2016 source: GearBest)
What To Expect If This Your First

HAWK-EYE Aerial Video cameras are designed for First Person View (FPV). The 7S comes with an Audio Video out voltage converter cable. This allows you to connect to a video transmitter and begin receiving live video on your FPV goggles or monitors.
The menu system is simple and easy to use. Hawk-Eye has a clear understanding of usability, keeping the functions organized and reachable when needed.
Similar Models
Users have considered these 2016 alternatives: Git2
Factory Specifications
Brand Name: Hawekye
Model: Firefly 7S
Image Sensor: SONY 12 Mega pixels COMS Sensor
Photo Resolution: 12M
Video Resolution: 2160p@24fps(Quicktime player required),2.5K @30fps,1080P @60fps,1080P@30fps and 720p@120fps,720p@60fps
ISO adjustment: AUTO/100/200/400/800/1600
AV Output Format : PAL/ NTSC
Supports HDMI output
Supports max 32G TF card, Class 10
Supports WiFi
Video/photo format: MP4/JPG
Supports HDMI/ AV Output
Accessories: Compatible with Gopro gimbals, battery and waterproof case
Supports Wifi Share
Supports WIFI Real-time Playback Preview
Gyro Image Stabilization
View Angle Adjustable
Support Inverted Image Rotate 180 Degrees
Camera Size: 59(L) *21(W) *41(H) mm
LCD Size: 640(L)* 480(W)mm
OLED Size: 64*48mm
Lens: 7mm FOV 120°
Weight: 70g
Battery Capacity: 1000mA
Battery Life: One hour
Charge Port: 5V 1A
Color: Black, Siliver and Gold
Optical Parameter
Diaphragm: F/2.8, 6 glasses
Angle: Horizontal 120 degree ; Diagonal 170 degree
Mode:
Video; Photo; Time-lapse video; Time-lapse photo; 11 Burst Photo; Effect shooting; Night Mode photos
Summary

In terms of ranking, I would say it is in the top 4 favorites during this release recorded Aug 2016.  An update to follow.   (Current Picks dronemission.com/top5).