FireFly 6S Camera breakthrough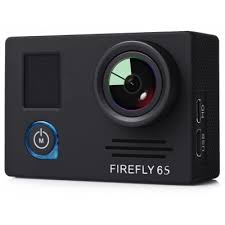 Firefly 6S WiFi 4K camera is an excellent entry into action camera sport DV camcorder.  A relative unknown company that had the right ingredients to success. Hawk Eye is known to focus it's effort on budget FPV action sports camera, has made this 4k version of the camera following the recent 1080p release. Similar to it's sibling, it carries a Sony CMOS 12.0MP sensor, but with the addition of 4k and GYRO image stabilization.  Since it is a camera, a video is worth a thousand words, here is a day wth this camera…

Our initial test tells us this is a keeper, regardless if it shoots at 4K, the 1080P 60 FPS is fantastically vibrant and with GYRO image stabilization. If you do not own a GoPro, this is definitely an alternate Action Sports HD camera designed ready for radio control first person view (FPV) flying. The menu system is simple and easy to use. Hawk Eye has a clear understanding of usability, keeping the functions organized and reachable when needed. We hope to get some personal footage of the 4k soon. We like that the fact everything worked out of the box…
FPV Highlights:
GYRO image stabilization
Auto power on and gracefully turns off after your aircraft battery is powered off !
SD card slot relocated to the bottom for some gimbal convenience
Soft blue light indicator when recording is on, flashes on the OK button and Mode button to assist pilot in knowing recording is on.
OSD to assist pilot in knowing recording is on.
Angle adjustment: 3 options: Large / Medium / Small (small = less distortion but reduce image quality)
Weight 70g
Battery Capacity 1600mAH
Battery life: 1.5 hours
Charging 2-3 hours
Compressed format H264
Video/photo format *.MP4 / *.JPG
Optical Parameter Diaphragm F/2.8 ,7 glasses
Angle Horizontal 105 degree
Diagonal 140 degree
Working Voltage 5V
current 800mA
Modes: Video, Photo,Time-lapse video,Time-lapse photo,11 Burst Photo
Time-lapse video: to start/stop time-lapse video at 0.5 / 1 / 3 / 5 /10
second intervals.
Firmware Updates http://www.cnfpv.com/en/TECH/163.html
V2.7
1.Add Slow motion function .
2.Add Long exposure function.
3.Add Frame Rate First opion, to make video more smooth,(suggest to turn it OFF at night).