Fire Fighting Drone Walkera Zhun FE15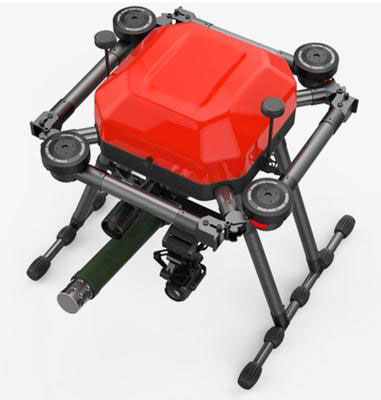 Happy 4th of July and we are not here to talk about a cannon for fireworks but a cannon for Fire Fighting, called the Zhun.  Walkera has began developing and testing with their local fire agency to secure a bid for a full scale deployment.  The Zhun has an ultra strong load capability and anti tremor design, folds up ready for a fire fighter's deployment. The quadcopter carries a high magnification telescope and the high frame rate night vision camera. With high precision, it can launch the fire extinguisher projectile accurately in a complex fire weather environment.  I had the privilege to preview the testing and edited this video.
It is amazing the Zhun is able absorb the amount of force created from the cannon. The real-time target control points are displayed on the ground control points, which greatly improves the accuracy of shooting and improves the efficiency of rescue…
30X opticl zoom camera
13KGS Payload
35mins flight time
Auto return to launch point.
Long range
Night vision targeting system
Precision strike
40 meters extinguisher maximum range
ABC Superfine dry powder agent type
The Zhun fire fighting drone uses infrared TOF technology, it can recognize obstacles 5m away in the front and then stop by using intelligent obstacle avoidance system, a high-precision sensor.
Standard package comes with 30X optical zoom camera. It can monitor fire location in detailed from a long distance to help firefighters make better decisions and determine rescue plans. You can load different equipment according to different need, like Infrared thermal imaging camera and low light night vision camera.  Interesting to see if the prototypes goes into full production.