Eachine Touch T100 100W Balance Charger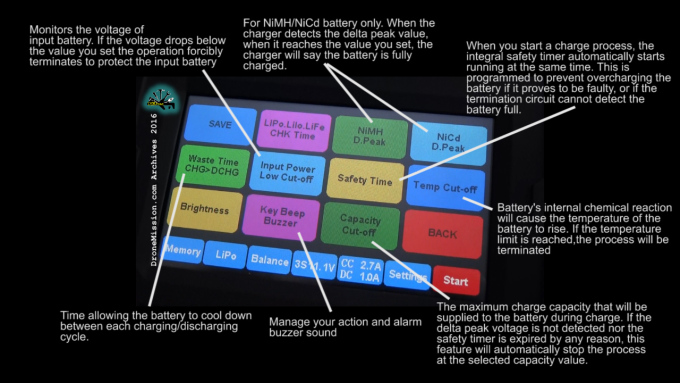 You can't beat that, a Touch Screen computer balance charger for $69, Eachine Touch T100 at a 100 watts, is everything you need for beginning RC. The AC/DC charger carries a microprocessor controller that allows you to charge or discharge batteries. With built-in lithium cell LiPo balancer to meet most Radio Control charging needs. This charger has a 4.3 inch color LCD touch screen and supports AC/DC dual input, an easy and convenient travel charger that strikes a balance in safety and security. You can limit the temperature/time/peek to forcibly shut off when the limits are reached

First Impression, impressed that all the details are all layout in one screen and absolutely love the graphical interface. I am a big fan of not having to scroll through menu to check the charging status. If you are familiar with computer chargers, this touch screen menu system is easy. The user manual does not explain in detail what the benefits of each safety settings, but they are the same and commonly available in all computer chargers. The default recommended settings are acceptable if you do not have any specific preferences. Here is a help chart we created.
Designed with safety in mind, the T100 allows you to set peak limits, and automatically shuts down, cuts off when it is reached.
Delta-peak sensitivity
Capacity cut-off
Temperature cut-off
Processing safety time
Input power low cut-off
Automatic cooling fan
User Segment
Beginners, Park Flyers, Budget $ (source: $69 July 2016 Banggood)
What To Expect If This Your First

You can easily spend 15 minutes exploring with the menu and saving your 6 favorite LiPo settings in memory. Charge most battery types including LiPo, LiFe, NiCd, NiMH and others.
The temperature probe is not included, but with a probe you can measure external temperature, beside internal charging temperature.
Similar Model
Users have considered these 2016 alternatives: SkyRC T6755,Ultra Power UP300, IMAX X200
Factory Specifications
Brand Name
Eachine
Item Name
Touch T100
Operating Voltage Range
AC 110V-240V
DC 11.0V-18.0V
Circuit Power
Max. 100W for charging
Max. 5W for discharging
Charge Current Range
0.1-7.0A
Discharge Current Range
0.1-1.0A
Current Drain For Balancing Li-Po
300mAh/cell
NiCd/ NiMH Battery Cell Count
1-15 cells
Lithium Battery Cell Count
1-6 cells
Pb Battery Voltage
1-10 cells
Display
4.3" color LCD touch screen
Weight
728g
Dimension
135x150x40mm
What we love about it
Touch User Interface
Every essential status on the front screen
100 Watt charger
Safety features
What is essential we hope to see in the next version
Resistance checker to help determine battery condition