Eachine LCD5802D FPV Monitor DVR
When you are out flying, recording your flights is a way to recover an aircraft, in an event of an engine failure. The Eachine LCD5802D 5802 is the next generation of budget first person view (FPV) monitors that gets better each time, putting it's competitors (Lumenier, Skyzone) in a tough spot. It is light and easy to carry. I am really excited about this monitor, as it has every function we need to monitor our flights at dronemission.com. The Eachine 5802D LCD monitor comes with diversity antennas, DVR and 40 channels auto search, all three functions I would look for on a new FPV monitor.

First impression, every FPV pilot needs a DVR, with a DVR function, you can record your flight footage along with your On Screen Display information. This will allow you to playback, analyze your flight footage or to recover a lost model. The Eachine LCD5802D comes built-in dual receiver for best reception, allows you to place two types of antenna to provide the clearest picture in a variety of flying conditions. With dual buffered Audio Video (AV) outputs, you can connect a pair of google directly or an external monitor. It is capable of receiving 5 Bands and a total 40 Channels to cover all the transmitter known today and to stay compatible with new or old video transmitters. You can easily switch between channels with a one key signal search and the auto scan is fast!.
User Segment
FPV Beginners, All-In-One Solution, Budget USD $120 (June 2016 source: Banggood)
What To Expect If This Your First
You spend about 3 minutes to setup, just mount on a standard tripod, power on and you are ready to search for the next active channel. The scan is fast, but once you found the right band, continue to compare the clearest reception between channels.
The LCD is super bright, with sun shade you can see the screen easily. Press once to Start recording and press the same button to Stop and save your recorded video.
With a fully charged battery, the Eachine LCD5802D can last 3 hours. You can use a standard tripod 1/4 inch to mount this FPV monitor.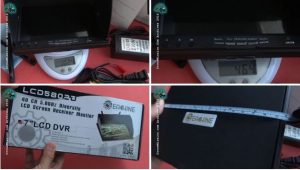 Factory Specifications:
Brand Name: Eachine
Item Name: LCD5802D Monitor
Receiver: Built-in 5.8Ghz Dual diversity receiver automatically for best reception
Ports: Built-in 2CH 5.8Ghz AV output and 1CH AV input
Battery: Built-in high performance Li-POLYMER Battery: 2000mAH/7.4V
Work status OSD display: RSSI indication ; Battery indicator; Channel indication
One key: to automatic search the next active signal channel
Language: English and Chinese menu
Format: JPEG, AVI
Screen size: 7"
Screen type: TFT LCD Screen/long life, LED backlight
Resolution: 800*480
Brightness: 600cd/m2
View Angle: 140/120degree (Horizontal/Vertical)
Size: 180mm x 120mm x 50mm (Sunshield height:28mm)
Working Voltage: DC 7~16V
Power Consumption: max 650 mA @12V
Battery charging current: 850mA @12V ( max )
Working temperature: -10℃~+ 65 ℃
Connectors: RP-SMA female (outer needle)
Antennas Connectors: RP-SMA male (inner hole)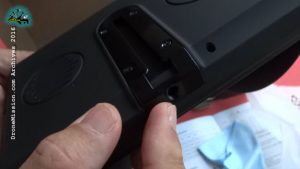 tripod 1/4-20
Similar FPV Monitors
Users have recommended these 2016 alternatives: Skyzone HD02 40CH 5.8G 7 Inch, AOMWAY 7 Inch LCD 5.8G 32CH Dual Receiver, FeelWorld PVR733 7 Inch HDMI DVR, Boscam Galaxy D2 FPV 5.8G 32CH LCD 7 Inch Monitor
What we love about it
Fast scanning of channels
Bright LCD for a hot sunny Florida day
Clear reception and live audio speakers
DVR that works
Standard Tri-pod mount
What is essential we hope to see in the next version
Correct Pal settings
Auto aspect ratio of the monitor between 16:9 and 4:3