Eachine EV800 D FPV Goggle and Monitor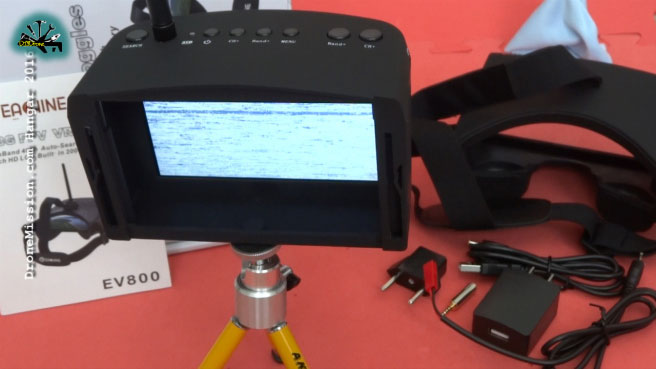 While testing several goggles for DM, Eachine EV800 caught my attention. Not only was the price great but something we have been doing, making a spare fpv headplay as a monitor. Eachine EV800 was designed with that in mind, a separable goggle 5 inch screen that can be used as small monitor with a tripod. The upgraded EV800D is even better.. brilliant!

First Impression, we love how it separates and serves as a monitor. In terms of the reception, clarity and usability, we have to report back after a few more tests. Standby.
Target User Segment
Keen FPV Beginner Pilots, First FPV Investment, Ready To Use, Budget USD$79 MAP (June 2016 )
What To Expect If This Your First
High brightness for outdoor use. Screen is 5 inches wide and weighs 391 grams (0.86 lb). On a full charged you can get 3 hours of use. 40 video channels at 5.8 gHz to meet most need.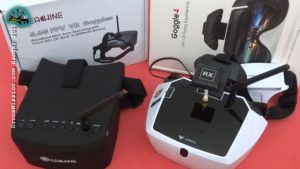 Factory Specifications
Screen size: 5.0 inch
Screen resolution: 800*480 (clear magnification from lens)
Screen brightness: 600cd/m2 with high brightness backlight LED for outdoor FPV
View Angle: 140/120 degree(Horizontal/Vertical)
Lens 3x boost of the video to provide the best experience in video, 92% transparent rate with no distortion of light
Built-in 3.7V/2000mAh battery
Battery Life: 3.5 hours
Supports: 5-12V recharging voltage range. Accepts 5V power banks or 2S(7.4V)/3S(11.1V) battery as back-up external power. (DM)
Dimension: 180x145x82mm
Weight: 375g with 3.5hr 2000mAh battery
Belt: three-ways adjustable belt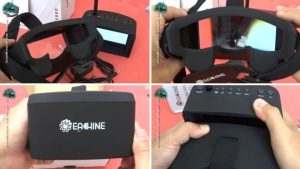 Similar Goggle Alternatives
Users have recommended these 2016 alternatives: Walkera Goggle4 Entry level, Kylin Vision, Eachine EV800. See comparison video.
What we love about it
A separable goggle 5 inch screen that can be used as small monitor with tripod.
All the accessories included, such as the 3.5 mm microphone adapter
The brightness and clear reception (more distance tests in progess)
What is essential we hope to see in the next version
DVR to record the flight and OSD, for recovery and flight analysis.
Dual diversity antenna, an option to use two different types of antennas