Eachine D800 7A 80W Balance LiPo Charger
Eachine does it again, this time with a cost-effective charger at 80 watts D800 LiPo Charger. The long awaited charger to support the growing size in LiPo that Radio Control hobbyist faces today.
Big 80 watts
example 6S Lipo divide 80w/25.2V= 3.17A, it can therefore handle a charge at a maximum of 3A for a 3000 mAh LiPo.  My experience with this charger is during times when a cell is off balanced, this is the only charger that restores itto balance and ensures a good storage.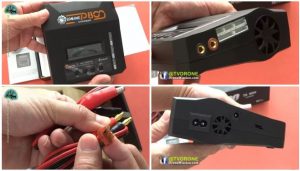 Features:
1.Individual voltage balancer for Lithium batteries inside
2.Balance individual cells on discharger
3.Accept various types of Lithium battery
4.Lithium battery "Fast" and "Storage" mode
5.Maximum safety
6.Data store/load
7.Cyclic charging/discharging
8.PC based analysis using USB communication
9.3pin temperature sensor interface, with temperature measurement function, at any time to monitor the battery temperature
10.Heat dissipation: plastic cover built in cooling fan.
11.Display type: 16chr. x 2lines with a backlight LCD screen

The Operating Manual, I must say is very detail and better written (rewritten) compared to the collection of chargers we have. An important and essential Operating Manual if you are new to this hobby. The same typical steps like all programmable chargers, if you are a seasoned hobbyist. Same old Save Data and Load Data program. You can store up to 5 battery types. When you are done charging, you get that same loud usual beeps.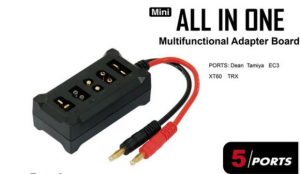 Not included Optional Accessory
•Charging Board: http://dronemission.com/find/charging-board.php
Works perfect as described, and if the price is right, this may be for you. Recommended. I will update this review if needed to share more experiences and therefore a frame of reference.