DeviationTX Walkera Devo Transmitter Hacking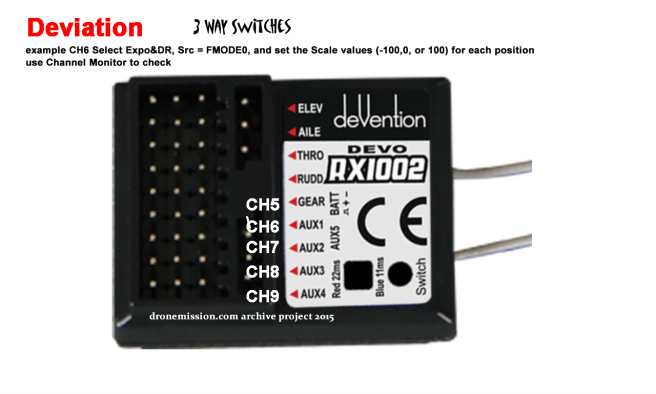 One of the best kept secret of a Walkera transmitter is the ability to support multiple protocols using deviationtx firmware. So if you are flying a selection of models, such as e-Flite Carbon-Z, Walkera F210, Blade QX, Yuneec Typhoon, Parkzone Micro Warplane, Spektrum DSM2 plane, JJRC Tarantula x6 or Hubsan X4; you can turn your affordable Devo transmitter into a power house that supports multiple protocols, all you need is the provided Walkera USB transmitter cable.
Specification:
The Deviation hacking project supports multiple protocols without any modifications to the transmitter:
● Devo 6/7e/8/10/12/F12e WK2401/WK2601/WK2801
● DSM2/DSMX JR, Spektrum, Turnigy
● Nine Eagles J6 Pro (with telemetry module)
It also supports other popular protocols with easy transmitter modifications
● Turnigy 9X
● Hubsan X4
● V202
● Skyartec
● Tactic SLT/Anylink
● Hisky
What's more, you can store up-to 255 different models and you can select the transmitter power up-to 150mW.  Easily setup multiple customized timers, for example countdown and total time stopwatch.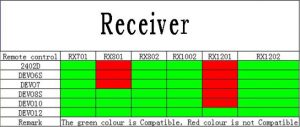 We began our transition to Deviation when we were looking to purchase an external OrangeRX DSMX/DSM2 2.4Ghz transmitter module for our FrSky Taranis and realized we can do it for free with a Devo 10 on hand.
Pros:
1) Free and easy to upgrade
2) Programmable timers, scales, curves, failsafe, personalized icons, etc.
3) Stores 255 models in different protocols instead of 30 models on devo protocol only
4) Output power: long range 150mW power instead of 100mW limitation
5) Easy backup and reversible to Devention firmwares
+ Plus: We always had difficulty recovering in mid-air while flying a Walkera QR x350 with the stock firmware, but with Deviation you can overwrite the throttle warning messages, resume connectivity without bringing down your throttle.
Cons:
1) Setting up Dual Rates 3 way switches and exponential curves took a few more steps.  Best way to learn is to download sample models from the forum and try them.  Don't get intimated, I suggest you take your time to learn it and will love this conversion.
Notes:  When you change between DSMX and Devo receiver, make sure you reassign the SRC Channels 1 & 3, Elevator and Throttle are switched around.  Make sure no props are in place when you first test your setup or be prepared to stop your model from flying, if you forgot to assign these channels properly.  A warning message may show 3% channel error.
Devo Receiver Channel Map
1-Ele
2-Ail   (Expo 20% as an example)
3-Thr  (with Safety Switch RUDD D/R)
4-Rud
Switch = Devo = Deviation = Cleanflight
Mix switch = Gear = Gear = Aux 1
FMOD switch = Flap = Ch 6 = Aux 2
Gear switch = Aux2 = !Ch 7 = Aux 3
RUDD D/R switch = Aux3 = !Ch 8 = Aux 4
On Devo 10, AUX4 default setting is AUX4 knob, AUX5 default setting is AUX5 knob.
Walkera Receivers
You may have to clear and rebind existing receivers with fixed ids.  If you change the number channels of a model, you may have to rebind.

When you create a new model, make sure you go to Mixer, set Throttle Simple SRC = THR, before binding. Check the rest of the channel AIL. ELE and RUD assigned to the right source too.  Be careful of throttle when binding, just in case you had it reversed.   Set a safety switch to your throttle, example set Safety = RUD DR0, Safe Val = -100.  A good old fashion technique, a safety switch disables the throttle so you don't accidentally bump the throttle.