2-Axis Brushless Camera Gimbal CNC for GoPro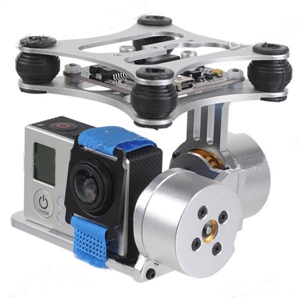 Synopsis: We have been looking for a quality gimbal for aerial filming, to allow us to survey an area with camera stabilization. There are probably over 20 selections of gimbals out in the market in 2014, notably the expensive Dji Zenmus and Tarot gimbals. We wanted a gimbal that has a motion processing unit to stabilize our camera while in flight. Working with Hobbywow.com, we have decided to test this unbranded but quality gimbal to see how it fair.
We selected the FPV 2-Axis Brushless Camera Gimbal w/ Motor & Controller for DJI Phantom Gopro 3. This selection is based on the budget price, it's stand-alone built ready to use controller that can be installed on any aircraft with any light weight pocket camera, the GUI software SimpleBGC and performance…
Specification:
•Simple structure and light weight CNC aluminum alloy structure
•Brushless motor direct drive
•With anti-vibration rubber balls
•With 2 x 2208 motors and gimbal controller sensor installed
•With motor protector which can help heat dissipation
•Weight is about 212G, total weight with GOPRO3 is about 285G.
Features:
1) Quick assembly
2) 2-Axis roll & pitch
3) Anti-vibration
4) SimpleBGC GUI
5) Compact